How do I find and use my free bet?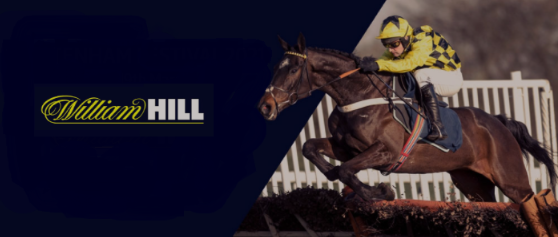 ---
How do I find and use my free bet?
We're in the process of releasing our new version, so the steps may differ slightly depending on which version you see. Please choose from the options below:
How do I find and use my free bet on the new version?
Any available free bets and rewards will appear on your betslip when you add a valid selection.
Please be aware of our free bet redemption rules - just click here.
TIP: You can also split your free bet on an each way bet. Just tick the E/W box and a £10.00 free bet will automatically split into £5.00 each way.
1. Click on "Rewards available to apply" to find your free bet: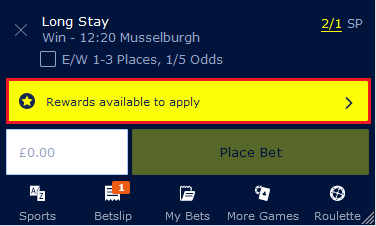 2. All your available rewards will show. Click on it the "i" symbol if you want to check the expiry dates.
After that, click on the free bet you want to use, and click on "Confirm":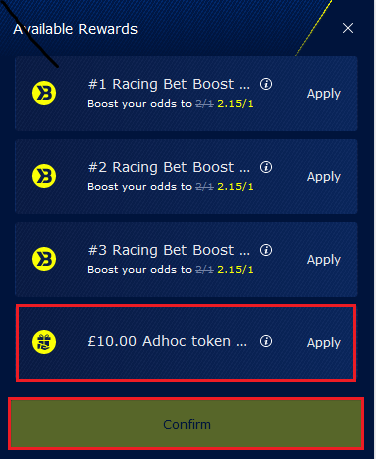 3. Don't add an amount into the stake box if you only want to place the free bet​​​​​​.
Just leave it blank and click the "Place Bet" button: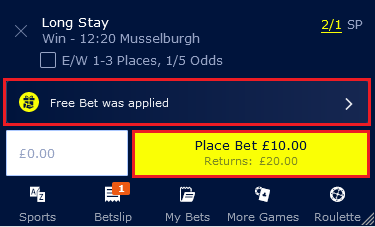 4. If you want to add funds from your balance to the stake (example: if you want to use a £10.00 free bet and £10.00 of your own funds, click "Apply" on the £10.00 free bet and also add £10.00 into the stake box).
The yellow button will say "Place Bet £20":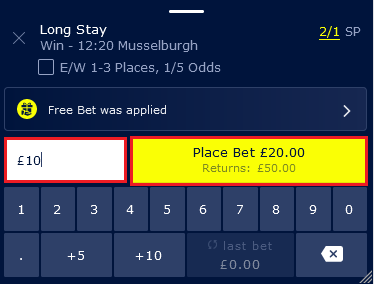 5. Click the "Place Bet" button.
TIP: if you've changed your mind and don't want to use the free bet yet, you can click on "Free bet was applied", then click "Remove" and "Confirm".
---
How do I find and use my free bet on the old version?
1. After you've met any qualifying criteria (as stated in each promotion's terms and conditions), a free bet token will be credited to your account.
2. Your free bet will be shown once you've added a valid selection to the bet slip: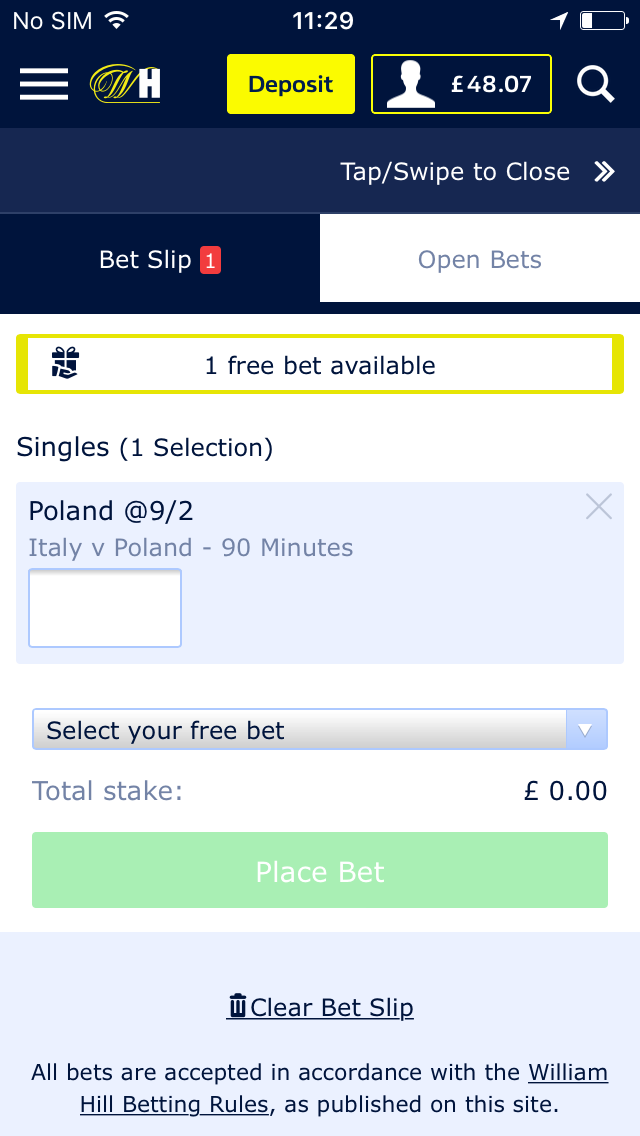 3. Using the drop down menu, select the free bet and place your bet as normal: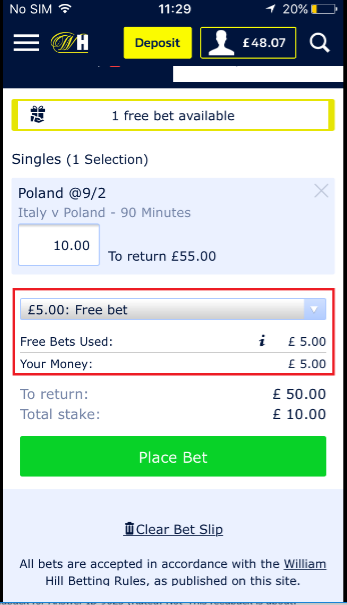 4. Your free bet token will then automatically be used to pay (or part pay) for your requested bet.
5. Your free bet will be used on the first bet on your betslip when placing multiple bets as your free bet cannot be split.
---
Free bets can be spent on bets as per promotional Terms and Conditions.

Free bets cannot be used to fund tote, pool or lottery bets.

Free bets are non-refundable.

Free bet stake is not included in any winnings.

The Estimated Returns on the bet slip indicates winnings with stake.

A free bet token cannot be partially redeemed. If you attempt to place a bet for lesser total stake than the value of your free bet token, you won't receive any further free bet tokens.

Free Bet tokens are valid for four (4) days unless otherwise stated in the Expiry section within the 'Free Bet & Bonus' details of 'My Account'.

Free bets cannot be redeemed on any other online product (Poker, Casino, Vegas, Live Casino, Bingo, Scratchcards, Games or Macau).

Redeemed free bets won't qualify for any future free bets. Qualifying bets must be placed from the customer funded balance.

Redeemed free bets with value of £1.00 or more will count toward qualification to view streamed events.

Cash in my bet will be available for bets placed using a free bet (minus the value of the initial free bet).

Cash in may be affected if your bet triggers a free bet promotion. See individual promotional terms for details.