How can I use PaySafeCard to deposit and withdraw?

How to Register for Paysafecard Account | Which countries is paysafecard available?
Deposit and Withdrawal Limits | How to Deposit | How to Withdraw
---
IMPORTANT:
Paysafecard will do a service upgrade on September 14th, 2021. Once implemented, customers from the following countries will only be able to deposit funds via free personal PaySafeCard account.
See below:
Countries
Austria (AT)
Denmark (DK)
United Kingdom (UK)
Finland (FI)
Spain (ES)
Croatia (HR)
Belgium (BE)
Sweden (SE)
Ireland (IE)
Latvia (LVA)
Slovakia (SLO)
Malta (MT)
Cyprus (CY)
Bulgaria (BG)
Hungary (HU)
Lithuania (LTU)
Luxembourg (LU)
Liechtenstein (LI)
Poland (PL)
How do I register for a Paysafecard account?
You can sign up for a free Paysafecard here. You can use your account to top-up via Paysafecard codes and use them as payment for gaming and sports betting in our site. To find your nearest Paysafecard outlet, click here.
---
Which countries can I use paysafecard?
Paysafe is available in: Austria, Belgium, Canada, Cyprus, Czech Republic, Denmark, France, Germany, Greece, Georgia, Ireland, Luxembourg, Poland, Portugal, Romania, Slovakia, Slovenia, Spain and United Kingdom.
1. Paysafe deposits are unavailable for Norway customers since 8th December, 2020
2. Paysafe PINs issued in Belgium and France will not be processed because of changes in the PaySafeCard policies last September 1, 2016
3.Transactions in excess of €50 can only be processed through a My Paysafecard Account (for Austria and Spain customers only)
4. April 14th, (for NETHERLANDS AND SLOVAKIA ONLY) PaySafe transactions will be processed using the PAYSAFECARD ACCOUNT option. The 16-DIGIT CODE can only be used to top up your PAYSAFECARD ACCOUNT .
---
What are the deposit and withdrawal limits for Paysafecard?
| | | |
| --- | --- | --- |
| | Deposit | Withdrawal |
| Min. Amount | £10 | £25 (by Bank Transfer) |
| Max. Amount | £200 | £99,000 (by Bank Transfer) |
| Timescale | Immediate | 3-5 working days (by Bank Transfer) |

The Withdrawal will be issued via Bank Transfer. You may be asked to send some identification documents. Click here for more information.

William Hill does not charge any fees for Paysafecard transactions, however Paysafecard will charge a fee, for more information on the fees click here.
---
How do I deposit with Paysafecard?
To make a deposit select PaySafecard method from the list of deposit methods.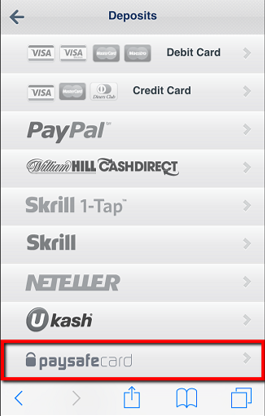 Enter the amount and click Deposit.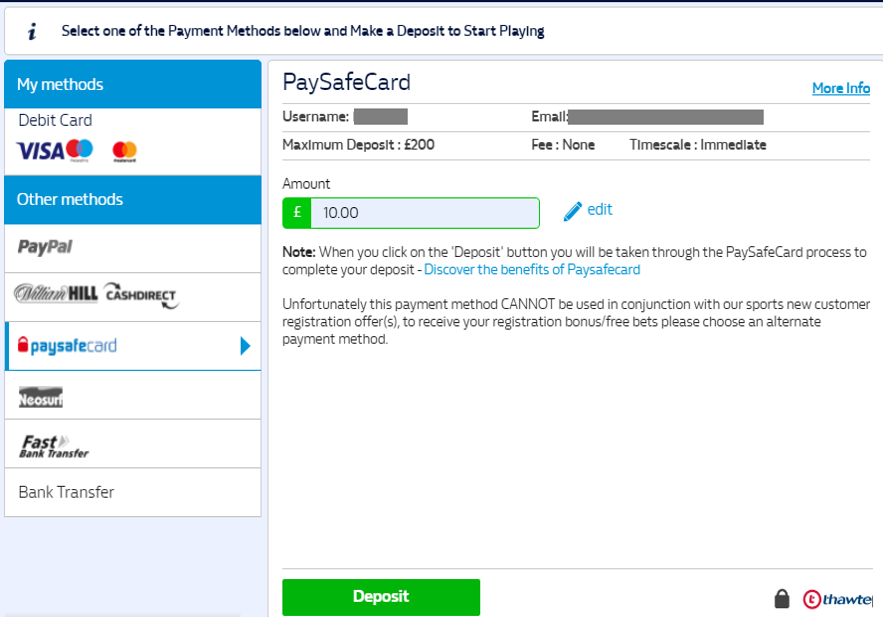 Enter 16 digit PIN, accept the T&Cs, and click Pay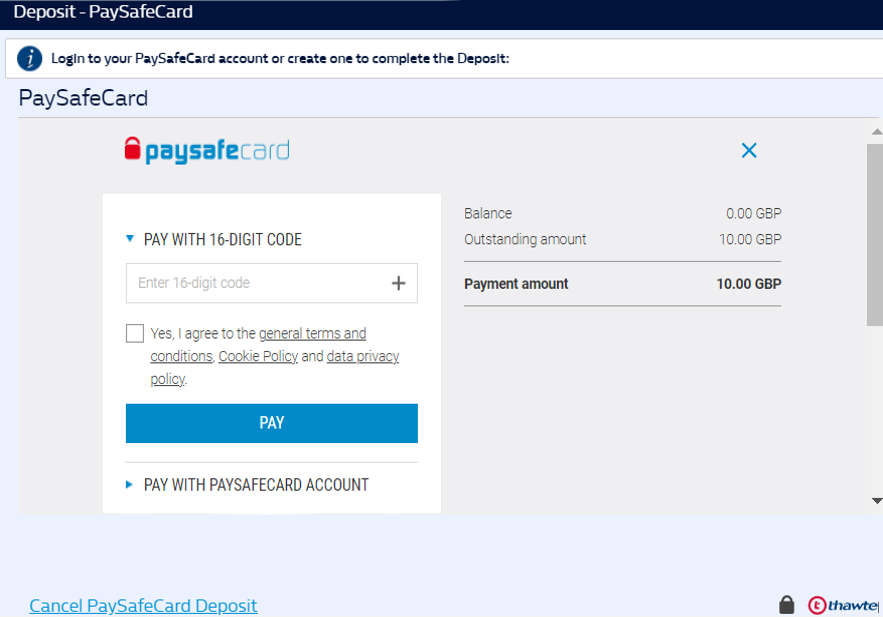 You can also pay by logging in to your paysafecard account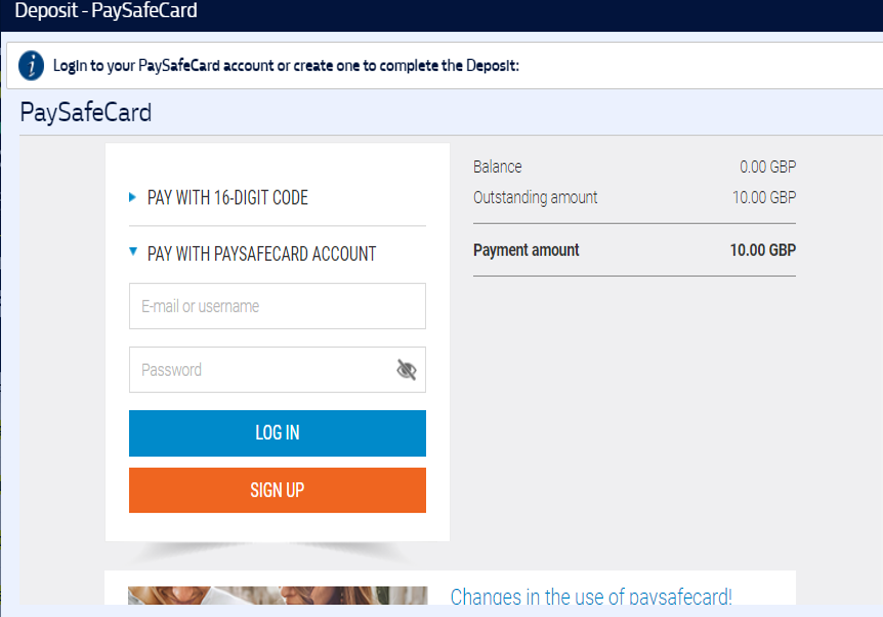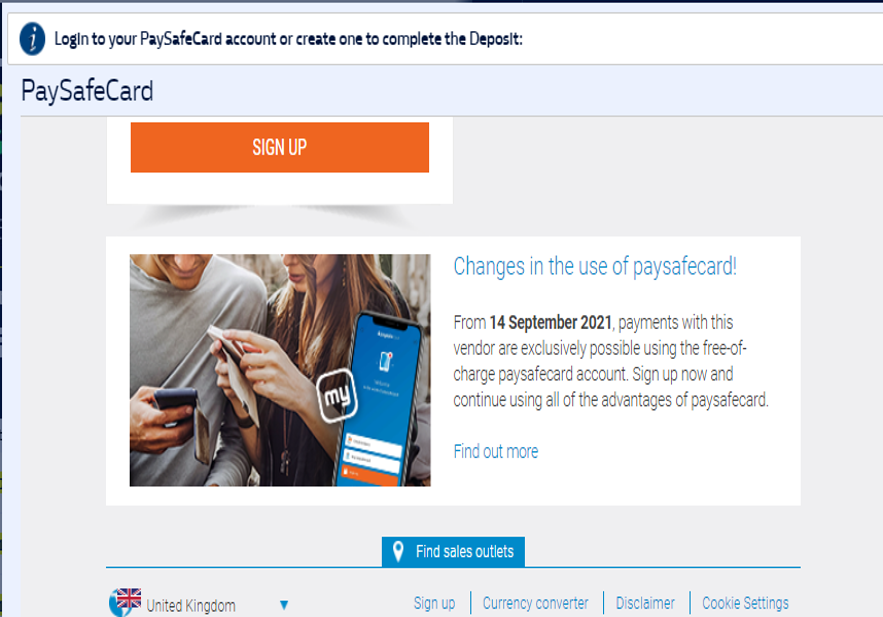 Your transaction will be processed and your balance updated accordingly.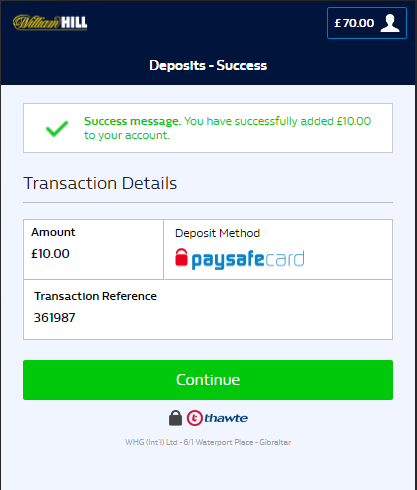 ---
How do I withdraw with Paysafecard?
The withdrawal process for Paysafecard will be processed via Bank Transfer.